What does working online mean?
Working online, or as others say, "working in the cloud," is a seamless and easy way to access data,
no matter where you are. It's simply the internet at your fingertips — an efficient way to share data and even
communicate with clients. When you and your clients work online, you'll gain many valuable benefits.
Always Accessible
Working online lets you and your clients login from any place at any time. You both gain more control of your schedules.
Always Backed Up
All of your clients' data is backed up automatically so neither of you have to worry about computer crashes.
Always Up-To-Date
You and your clients will always be on the latest version with no need to ever upgrade.
How do I get started? It's easy!
Now that you've signed up for QuickBooks Online Accountant, you can start taking advantage
of all the benefits it has to offer.
Set Up Your Books
As soon as you're ready, you can set up your own QuickBooks Online company for FREE. Just click the Your Books tab in the navigation bar to get started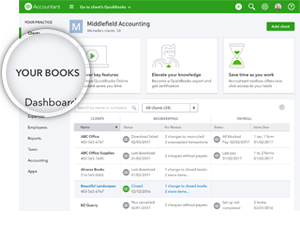 Compare QuickBooks Accountant to QuickBooks Online Accountant (PDF)