Welcome to QuickBooks Online Accountant.
All your work in one place.

Introducing powerful new features for managing all your work across clients and services with one login.
The reimagined QuickBooks Online Accountant
Easily manage your entire practice, with one login.

Effortlessly manage workflow
Track projects and deadlines in one place from start to finish so nothing falls through the cracks.

Collaboration made easy
Access shared documents and message clients securely, right from your dashboard.

Keep clients close
Connect with all your clients across
tax, payroll, small business, and
bookkeeping in one place.
Manage your practice like a pro.
Optimize workflow and collaborate across projects with the new Work tab.
Stay organized
Meet deadlines by assigning and tracking work across all your services.
Keep up with clients
A master client list provides easy access to contact info, notes, and shared documents.
Communication made easy
Send messages, share documents,
and track requests securely,
right from your dashboard.
Work seamlessly across all services.

Streamline your workflow
The Accountant Toolbox contains exclusive, accountant-only features designed to save you time.

Simplify tax time
Help tax clients stay organized all year round by accessing their data anytime, anywhere.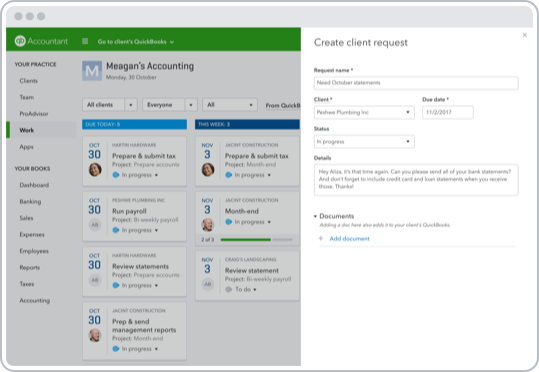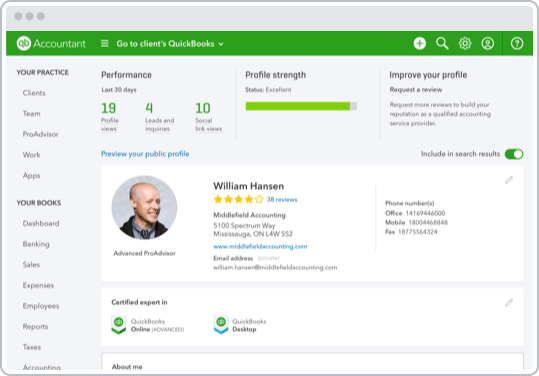 Stay on top of your game.
Learn and grow
Stay up-to-date on all things QuickBooks and gain confidence with free training resources.
Showcase your skills
Attract more of the clients you want with a listing on the Find-a-ProAdvisor directory.
Start using QuickBooks Online Accountant today.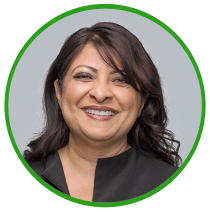 "With QuickBooks Online Accountant, we've been able to increase our internal efficiencies and spend on average 20% less time per client."

- Juliet Aurora

AIS Solutions

-->